Welcome to v6Clio.net, the home of Renaultsport Clio v6 enthusiasts. Our forums, and knowledge base ensure you will get the most out of owning this unique mid engined supercar by Renaultsport.
v6clio.net ...
At v6clio.net we aim to bring like minded enthusiasts together, not just as members, but as a strong and friendly team who appreciate the Clio v6 and just how exciting it is to own one of these extraordinary cars.
You can register as a Forum User for free to get limited access to the Forum and Knowledge base.
For just a small annual subscription Full Forum Members receive the following benefits ...
Access to a list of discounts.
The ability to participate in Group Buys when they occur.
Full access to all sections of the friendly v6clio.net forum packed with information about the Clio V6.
Full access to the Knowledge base.
Access to store pictures of your car in our Gallery.
Members can also share and add useful technical information to our growing v6 knowledge base.
To Become a Full Forum Member
First, you need to register on the Forum. You will see a "Become a Full Forum Member" link at the top of the Forum Index page. Add the Membership to your Cart, then Checkout via PayPal.
The Car ...

A spin-off from the Clio Trophy race car series and first previewed at the Paris Motor Show in 1998, the Clio V6 230 Mk 1 finally hit the streets in 2001. Mid-engined and rear-wheel drive with a 3.0 litre V6 engine where the rear seats would normally be, the Clio V6 gives the driver supercar characteristics in a "pocket sized" package. In 2003 the Clio V6 255 Mk 2 was released with more power, improved suspension and updated looks. The last Clio V6 rolled out of the Renaultsport factory in late 2005.

All Clio V6s were hand assembled. The Clio V6 Mk1s were assembled at the Tom Walkinshaw Racing (TWR) workshops in Uddevalla in Sweden, using parts shipped from France. For the Clio V6 Mk2 production was returned to the Vee's spiritual home at the ex-Alpine Renaultsport Dieppe factory. To recognize the relative rarity of Clio V6s, each car is numbered with a plaque on the centre console behind the handbrake.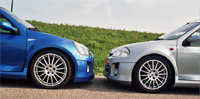 The Clio V6 is approaching cult status as production of these rare and beautiful cars has now ceased. The long-term reviews in Evo magazine were enthusiastic for both the Mark 1 and Mark 2 versions, and Top Gear's Jeremy Clarkson commented "In my perfect ten car garage I would definitely have one of these – no question".